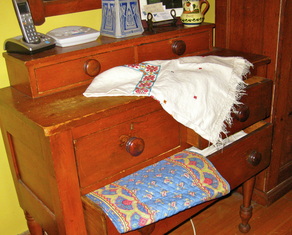 Most of my home is decorated with antiques and reproductions of antiques, and you could definitely call this my "comfort zone." These belongings, from the Chippendale secretary in the living room to the pine dresser in the dining room, the reproduction Stickley dining set to all the wonderful and rare art pottery that is displayed around the rooms, were collected by me or inherited from my mother and my late sister.

Because their history tells me something about my past, owning such antiques is meaningful to me.

My children, and their children, however, live in an IKEA world with Crate & Barrel, Pier 1, and Pottery Barn accents. It occurred to me today that my granddaughters will likely always associate "antiques" with "Grandma's old furniture" because they rarely encounter it anywhere else in their lives. They come to visit and are surrounded by vintage ("beat up") and collectible ("what IS that?") and the relics of my ancestors' lives ("who??").

In fact, I'm in the process of redecorating my second floor so that it will be a bright and shiny and welcoming guest space for my family when they visit. The two bedrooms and the sitting room will be "their" space, with a little girls' bedroom in white and pink and lavender and pale blue, and a play room in bright teal and lime green. The walls will be white, and the furniture will be sleek and straight-out-of-a-catalog modern. They'll feel right at home, I'm sure.

I wonder, however, if any of them (including the eldest who is 45) realize that in 30 years their very contemporary furniture from the 2010s will be considered "vintage"? Will they have long since replaced the 2011 Crate and Barrel living room set with the 2041 Crate and Barrel versions, after consigning the "old" stuff to the likes of whatever Craigslist has morphed into in 30 years?

Admittedly, I am enjoying trying out a different style for the upstairs. Target and Pier 1 have lovely stuff, at reasonable prices. I have had a lot of fun designing with Marrimekko fabrics and finding just the right colors for all the elements of a room. Interior decorating is my first love, and this has been a blank slate with the enjoyment and comfort of my family as the end result.

But when the time comes for my family to dismantle and dispose of my effects (sometime in the far distant future, I'm sure) will any of them choose to keep anything of the "old stuff"? What will my granddaughters remember from Grandma's house – what memento will each one linger over and decide she must not relinquish? I hope they will want it all – and even fight over much of it!

In the meantime, if either of them asks me about the side table in the dining room that a Cuban craftsman hand-made out of Cuban mahogany for my grandfather in the 1940s, I'll be happy to tell her.