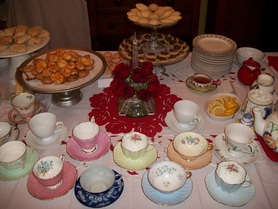 (l-r) Scones, gougeres, (partially hidden) crab rangoons, madeleines, peanut butter kisses with Dove chocolates.
When serving buffet-style as is necessary for a group too large to sit at one's table, it's helpful to make sure no one finds it too difficult to handle both a cup and saucer, and a small plate. Other than teaspoons for stirring their tea, guests shouldn't need to cope with flatware. So foods need to be truly "finger foods" and not messy to eat.
Traditional sweets at a tea include scones (at an English tea) and madeleines (at a French tea). Russian teas might have little Russian Tea Cakes (also known in the US as Italian Wedding Cookies). Madeleines, shortbread, the wedding cookies, and other small, non-crumbly cookies can be purchased in most supermarkets.
Here is the scone recipe I used. I made the dough the evening before and refrigerated it, making sure the butter in it would stay cold. I baked them the next morning.
(I found this on Allrecipes.com, submitted by "Donna"). I added the currants.
Ingredients:
3 cups all-purpose flour
3/4 cup butter
, very cold and cubed
1/2 cup white sugar
1 egg, beaten
5 teaspoons baking powder
1 cup milk
1/2 teaspoon salt
1/3 cup golden raisins or currants
Preheat oven to 400 degrees F and lightly grease a baking sheet.
In a large bowl, combine the dry ingredients. Using a pastry cutter or two forks, cut in the cold butter
until it is the texture of small peas.
Mix the milk and egg in a small bowl, and stir into the flour mixture until combined but not smooth.
Stir in the golden raisins.
Divide the mound of dough into two pieces for ease of handling, and turn one at a time out onto a floured surface. Knead very briefly (or fold over in thirds upon itself)
and pat into a rectangle of about 4"x8", about 1/2 an inch thick.
Mark and cut the rectangle into
8 squares and set upon the cookie sheet. Bake for about 15 minutes until just golden brown.
If you wish to refrigerate them overnight, don't bring them up to room temperature before baking. Making sure the butter is still cold is a key to light and fluffy scones. Don't handle the dough too much, either. The dough can also be frozen, before adding any fruits or nuts. Bring it to just barely room temperature but don't defrost in the microwave!
Serves 16.