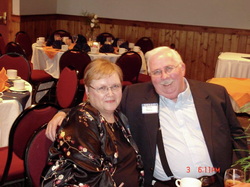 Today is the second anniversary of the passing of my husband, Russell Bell. So many things have happened since that day, and yet it doesn't seem very long ago.

We were married just short of 9 years, which doesn't cover a large portion of our lives, but perhaps it was the best portion. Russell had been married twice previously, and I had been married once. In the long interval since we had each lived with another person we'd developed a number of solitary routines, and nothing is harder for a man or woman past the age of 50 to change as the independent, self-reliant life that ensures survival after divorce or loss of a spouse. Yet, Russell managed to adapt almost immediately to sharing his life and small apartment with me. It was a bit harder for me to change – maybe I never really did – but eventually the edges got smoother and the bumps got less bumpy.

I'd measured my decision to marry again with this criteria: what would be the very worst thing that could happen, and would Russell be able to help me bear it? The worst thing that I could imagine was the death of my mother. And when I acknowledged that yes, Russell's strong arms would be the ones I'd want around me when I lost my mother, I knew I could say "yes" to him.

Indeed, just about six months later my mother passed away unexpectedly. Russ got the phone call from New York, and he came to my office to tell me. This was the hardest thing for him to do – and harder still to bear my grief and pain. He'd gotten to love her too, and he knew instinctively that I needed his own sorrow to lean against, to help me by sharing the pain.

There were other very hard times ahead of us. There was illness for both of us, and financial hardship. Sometimes we argued, sometimes we were silent in stony and cold fury. But I don't think a single day went by that Russell didn't try to make me laugh, and he always succeeded. His patience and tenderness were tested by my demands and needs.

He was not, trust me, a perfect man – in fact he was so exasperating at times that it was all I could do to keep from screaming. Not that this would have helped, since he was losing his hearing and would have acted as though he didn't hear me. His refusal to wear hearing aids was a constant bone of contention. His love of gambling might have been another issue except that I've never known anyone so lucky at the slot machines in my life. On more than one occasion his winnings paid for our entire vacation – Las Vegas, Atlantic City, a couple of cruises.

Nothing exceeded his love of good food, which brought him both joy and anguish, except his love of golf. He didn't just 'play' golf, he TAUGHT golf (as he exclaimed over any game we played together). And he did teach me to play and to love the game of golf, as he taught my two sisters. We girls became the "golf sluts" willing to play at any time. He showed such love and patience with me on the courses we played from Las Vegas to the Yukon to the Caribbean and many points in between. And he wrote about golf as well, because he had an endless well of funny stories to share about the game.

I am so lucky to have been found by and loved by Russell Bell. He left me much too soon, and every day I wish that he were here with me.