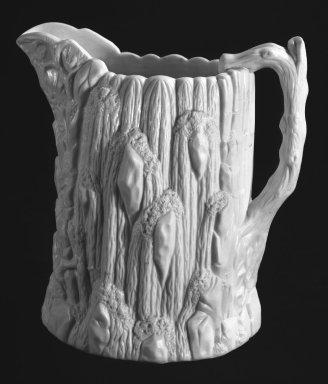 "Niagara Falls" pitcher, made by United States Pottery, Bennington, VT. c. 1855. Owned by Brooklyn Museum. Creative Commons-BY-NC.
Bennington Pottery


Although some of the most collectible art pottery from New England is from the late 19th and early 20th centuries, such as Saturday Evening Girls and Dedham potteries, there have been potteries in New England since the end of the Revolutionary War.
Established two years after Vermont joined the Union in 1791, the first pottery was built in Bennington by Capt. John Norton, of Connecticut and his brother, William. Capt. Norton owned large tracts of farmland there since 1785, and was a prominent distiller. Perceiving the need for a local supply of milk, cider and whiskey jugs, he built one kiln on his farm. Within a year he built a second kiln.
Much of the early ware produced there was of the salt-glazed stoneware variety so familiar to modern collectors of country stoneware. The Norton pottery grew throughout the 19th century producing decorated stoneware featuring birds, flowers and animals.
Around 1845, when the pottery was owned by Capt. Norton's descendent Julius Norton and his brother-in-law Christopher Fenton, the production of the "Rockingham" brown glazed pottery was begun. It is known variously as "Bennington Rockingham" or just "Rockingham", and such utilitarian utensils as mugs, jugs and pitchers were the most popular items. They were often designed with a dog's form as the handle.
In 1849, Christopher Fenton split from Julius Norton and formed his own firm, the U.S. Pottery Company. It is primarily at Fenton's factory that the bulk of Rockingham ware was produced. However, this firm was dissolved in 1858. The Norton factory ceased production of pottery in 1894.
In addition to Rockingham ware, the U.S. Pottery Company produced flint enamel glazes, yellowware, agate and granite ware, parian and porcelain.
How to Identify Bennington Pottery
Web Hosting
by iPage. The copyright of the articles in The Wise Collector is owned by Barbara Nicholson Bell. Permission to republish any articles herein online or in print must be granted by the author in writing.