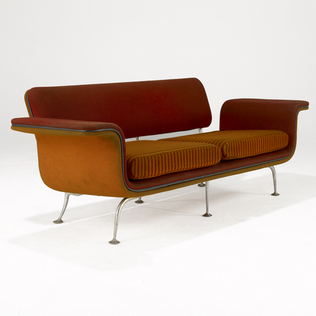 Mid-Century Modern: the Mad Men Era

_
Post-World War II design took a radical break from the icons of the 1940s, when production of furniture and home décor concentrated on comfort, familiarity and cost-consciousness. In Europe, designers had been severely hampered by the war, finding themselves either vilified by fascist governments or exiled by fear for their lives. In the United States, war materiél production took precedence over domestic goods, and people learned to make do with the furniture they'd acquired before the war or renovate on tight budgets.
Once the war ended and recovery from its effects began in the second half of the decade and early 1950s, design took a dramatic surge forward. In an apparent effort to cast off the shadows of the past, many European designers, architects, and artists sought to celebrate the future - with bold colors, simplified lines, imaginative shapes and creative uses for "space-age" materials.
In the United States, some of the most well-known Bauhaus designers and artists had taken refuge from the war, and were now among the leaders of the new "Modern" movement. Other American designers and artists found a ready market among the young veterans beginning their families and buying their first homes, while other consumers eagerly welcomed the opportunity to redecorate after a dreary decade (and more, thanks to the Depression). Home-making and interior decoration crazes swept the magazine industry with such enthusiasm that
Better Homes & Gardens
,
House Beautiful
,
McCall's
and others got a new lease on life.
The
ModHaus
has several pages with wonderful examples of the Mid-Century Modern movement.
Among the newly popular, and sometimes rediscovered, materials featured by the 1950s designers were tubular steel, plastics, glass, wood veneers and softwoods. Manufacturing techniques devised during wartime could take these materials and bend, shape, form and mold them into amazing creations. Mass production was made easier with cheaper labor and supplies at war's end and as the 1950s progressed. Imports from Scandinavia, Israel, and Japan rapidly arrived on US markets to compete aggressively with domestic manufacturers, although one of the most recognizable "import" names, Dansk, was actually a US company.
Color exploded in exciting ways with pinks, purples, olive green, aqua and black dominating the housewares of the day. These colors were not taken from nature as much as they were a result of the chemical qualities of plastics and petroleum products used so extensively. In fact, unless the "natural" was made into abstract form, there was little of nature to be seen in the typical home:
Modhouse Textiles
Today, collecting vintage mid-century modern furniture, ceramics, housewares, art and other collectibles is one of the most popular and exciting niches among collectors. Scores of books are available covering toys, dolls, model cars, furniture, dinnerware, jewelry, clothing and textiles, architecture and art from 1949 through the early 1970s. There are probably hundreds of antiques dealers' web sites which specialize in mid-century collectibles. Here are a few that you might want to peruse:
Design Within Reach - article and photos about Eero Saarinen, iconic 20th modern designer and architect.
The Mad Men of Mid-Century Modern
Web Hosting
by iPage. The copyright of the articles in The Wise Collector is owned by Barbara Nicholson Bell. Permission to republish any articles herein online or in print must be granted by the author in writing.