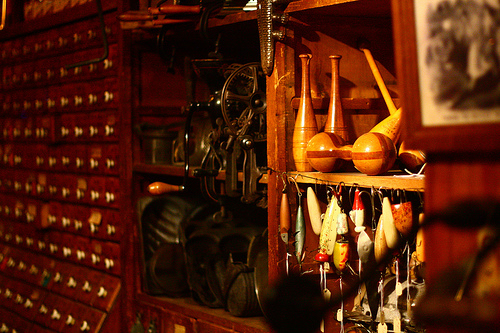 Collectors of vintage fishing gear will drool over this collection of lures. Photo by wsilver at Flickr.com.
Fishing Gear Collecting - Anglers of the Reel Thing
Whoever cast the first fishing line into the water and brought out a shining flopping trout for dinner, must have known instantly the peculiar thrill of conquest, of equal battling equal, of awe, and of mystery. Within hours or days, that first angler must have wondered how to improve his chances of winning the next time. Did he use fine sinew, or woven grass, to make a line? Carve bone or shell into a sharpened hook? Did he sit for hours by the river bank, observing the fish leaping up to eat the flies on the surface?
It's beyond the scope of this article to trace the many hundreds of years of fishing history. We know that every indigenous people living near bodies of water eventually learned to catch fish in sufficient quantities to provide food for sustenance. Most used traps, nets or fished in groups with spears. The solitary fisherman aimed to feed his own family until very recently, when within the last few hundred years the art of angling became a leisure activity.
The "modern" sports fisherman (from the 16th century to the present) became more serious about his pursuit, recognizing that fish are crafty, subtle, unpredictable and persistent. While Tom Sawyer might have been satisfied with worms (which work quite well on your average perch, sunfish, porgy or bullhead), the true test of one's skill lies in the use of man-made lures and flies to catch trout, bass, or salmon. It is the ever-illusive perfect fly, the many hundreds of unique lures, and the accoutrements of fishing that are our topic.
According to the history page of
Antique Fishing Lures, by Floyd Roberts
, "In the late 1890s while waiting for a friend to go fishing, James Heddon carved his first frog lure from a piece of wood he picked up. He fastened hooks to his hand carved frog and later that day he tossed it into the water and caught a bass. This was the beginning of the first bass lure. It is said that he only carved frogs for himself and a few friends. These lures are extremely rare and only eight authentic hand carved James Heddon Frogs have been found. " Other firsts came around the same time: In the late 1800s William Shakespeare Jr. invented a reel that wound the line evenly on the spool. This reel led to the beginning of the Shakespeare Company in 1897.
If you are a collector of antique lures and reels, this site gives in-depth histories of several well-known manufacturers such as Chubb Creek, Heddon, Pflueger and Shakespeare. It's a terrific resource.
My favorite discovery among the many excellent websites for tackle collectors is that of Dutch collector
Hans Brinkel
. European tackle, methods and sport fish are somewhat different from American types, but anglers from the world over will appreciate his collection.
Devotees of fly fishing have their own museum: The American Museum of Fly Fishing, in Manchester, Vermont. Founded in 1968, the museum boasts the fly fishing tackle of many famous Americans: Daniel Webster, Dwight Eisenhower, Herbert Hoover, Andrew Carnegie, Samuel Morse, Ernest Hemingway and others. Its website,
American Museum of Fly Fishing
is full of history and wonderful trivia. The museum is open to the public year-round.
The
Fly Fishing Loop
is a web ring of over 1000 related websites, both personal and commercial.
Collectors will find a gold mine of advice, photos and price guides at these websites:
Freshwater Fishing News
Tackle Collecting
Antique Fishing Equipment at FishingSociety.org
Web Hosting
by iPage. The copyright of the articles in The Wise Collector is owned by Barbara Nicholson Bell. Permission to republish any articles herein online or in print must be granted by the author in writing.