Coin Collecting

Among the very oldest of hobbies, coin collecting has been around for thousands of years. Numismatists were saving coins as far back as Greek and Roman times, and coins from those eras are still being collected. There are as many reasons to collect coins as there are kinds and categories of coins! You may be among those who love the history of a time or place, which a well-worn coin represents. Or you might be fascinated by the errors that slipped past a mint's inspection, quickly caught, thus rendering the 'escapee' quite rare. Some collectors admire the design or the person depicted, others are motivated by the possibility of their investment growing in value.
Intrigue, speculation, history, commemoration, or art - there is something for everyone to like about collecting coins, regardless of age or pocketbook. Indeed, it is a hobby enjoyed by the famous and the ordinary person.
According to Bruce Amspacher at
Coin Universe
, the first appearance of "In God We Trust" was on a U.S. coin only issued for 10 years during the 19th century - a two-cent coin! The U.S. also issued tiny silver coins known as three cent silvers from 1851-1873. Many individual colonies and later, states, issued their own coins which were legal tender. Mr. Amspacher's six-part series on coin collecting is fascinating reading, and a great place for the novice to learn the basics of coin collecting.
Coin World Magazine has its online version at
Coin World Online
. With articles of interest to both beginners and life-long collectors, this is a treasury (excuse the pun) of information, online dealers, important bulletins and FAQ's for coin collectors.
In fact, I am not a coin collector, although both my father and my husband enjoyed the hobby. To understand more about the subject I went to
Coin Collecting FAQs
, which is extremely thorough and easy to understand. If you are also a 'newbie numismatist' you'll find it invaluable.
And of course, collecting requires the proper albums, displays, protective sleeves, and all the other accessories, and
Collecting Supplies.Com
will be happy to assist. The Coin Collector's Home Page is very business like, with links to other dealers, FAQs and inventory lists for ancient and medieval coins as well as more modern ones.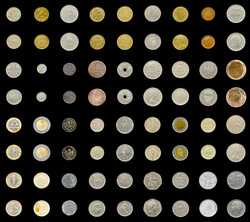 Web Hosting
by iPage. The copyright of the articles in The Wise Collector is owned by Barbara Nicholson Bell. Permission to republish any articles herein online or in print must be granted by the author in writing.