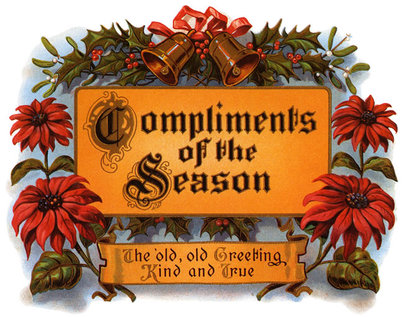 Collect Vintage Christmas Decorations
My grandmother, born in 1895, never had a Christmas tree when she was a little girl in upstate New York. Perhaps her own mother didn't grow up with Christmas trees either, having been raised in post-Civil War North Carolina. By the turn of the 19th/20th century, Christmas trees had only been a part of American tradition for about fifty years, and were not as common in American homes at the turn of the century as they are now. Although it's a myth that the first Christmas tree was introduced to England (and America) by Prince Albert, the husband of Queen Victoria, it is true that their family's embrace of the German Christmas tree popularized it.
My grandmother's first tree was given to her by a boyfriend when she was 17. This tree was made of goose feathers, which was the most popular kind of "fake" tree and considered very "in". Perhaps she decorated that tree with paper cutouts, tin ornaments, gilded nutshells, glass bead garlands, and candy canes. Simple, home-made decorations were inexpensive and pretty then as well as now. Perhaps her boyfriend also gave her one or two blown-glass or tin ornaments as romantic tokens. Those ornaments probably cost only a few pennies, but today those delicate old ornaments are very collectible, if they have survived. Goose feather Christmas trees are extremely rare and highly prized, as well.
Victorian-era Christmas ornaments, cards, postcards, and feather trees are fun to discover at antiques shows, flea markets and antiques shops. More recent glass and plastic ornaments and decorations from the 1940s, '50s, and sixties often appear at yard and garage sales. If you don't mind some wear and tear, do go ahead and buy any you find. Their attraction lies in their nostalgic effect, not their monetary value; a quick glance at eBay's or Etsy listings show that prices are rising, however. The better the condition, the more you can expect to pay. Look for advertising pieces as well as souvenir items for your collection. These increase in value more substantially, as with any collectible in those categories.
Cardboard ornaments and decorations don't stand the passage of time as well, and thus are more valuable when found in good condition. Postcard collectors treasure their finds not only because they exhibit charming illustrations but because they've withstood the postal system of their day, and usually contain a handwritten message and are postmarked with a date. Expect to pay between US$1 and US$25 for a postcard in good condition or with a very rare illustration.
Early electric ornaments, from strings of lights to clip-on "candles", are very collectible. It's wise to carefully inspect the plugs and wires for damage, and test them before using them on a tree.
There are usually a flurry of antiques shows scheduled for the holidays, where dealers will showcase their vintage ornaments and ephemera. This is a good time to make special efforts to add to your collection. If you've gotten a little extra cash from Santa, indulge your collecting passion! You'll preserve a piece or two of fond memory for future generations.
Here are a few excellent on-line resources for collectors of old-fashioned Christmas ornaments and decorations:
SMS Noveltiques
- many really fine vintage Christmas ornaments and decorations for sale.
Etsy's various Christmas shops
- offer a variety of sources for collectibles and holiday gifts, vintage and retro as well as homemade.
Identifying Reproduction Ornaments - Spotting the Fakes
- excellent cautionary information before you buy.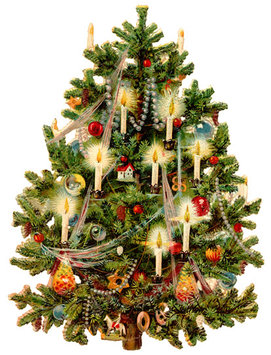 Web Hosting
by iPage. The copyright of the articles in The Wise Collector is owned by Barbara Nicholson Bell. Permission to republish any articles herein online or in print must be granted by the author in writing.