Download My E-Books for Your e-Reader!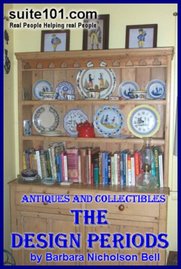 If your e-reader is capable of downloading PDF formats, you can purchase my collected articles in one or more of the following compilations:
The Design Periods
The articles included in this collection were written over a span of a few years, but the design styles which are their focus appeared in the United States from its infancy in pre-Revolutionary times to the present day. That's a range of nearly 300 years.

Many Americans can look around their homes and recognize family heirlooms from the late 18th century, lovingly preserved and carefully cherished. Others have fallen in love with the Shaker "look", or eagerly sought out the perfect Eames chair or Stickley table at auction to complete their décor. Perhaps you, too, are a collector of vintage furniture but aren't an expert on the period. Maybe you've been collecting for years but don't know anything about the context of design wherein your taste falls.

I've tried to clarify the available Web information and bring together resources for readers, and hope that in some measure these articles will educate the casual collector, and spark the curiosity of the experienced one to learn a little more.
---
---
Two Volume Set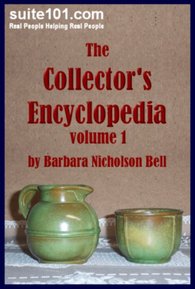 The Collector's Encyclopedia, Vol. 1
The Collector's Encyclopedia is a compilation of articles about antiques and collectibles from the Antiques & Collectibles topic at Suite101. These were written between 1998 and 2003. In that time I tried to cover a wide variety of popular collectibles and the trendy antiques as well as vintage favorites. Articles also dealt with caring for one's antiques, protecting against fraud, book reviews and readers' questions.

While this anthology roughly follows the alphabet of antiques and collectibles, it doesn't pretend to be exhaustive. You may not find the items you are most interested in learning about, but you will find valuable advice and information about the most common items, from which you can gain a lot of knowledge. Using these chapters as a starting point you'll find it much easier to explore other resources such as your local library, bookstores, and Internet sources.
The Collector's Encyclopedia, Vol. 2
---
Web Hosting
by iPage. The copyright of the articles in The Wise Collector is owned by Barbara Nicholson Bell. Permission to republish any articles herein online or in print must be granted by the author in writing.