_
Louis Prang, Father of the American Christmas Card
Leaflets expressing good wishes first appeared at the beginning of the fifteenth century and are the ancestors of modern greeting cards. These were followed by eighteenth century print versions which merchants sent their customers on New Year's.
The greeting cards we exchange at Christmas or New Year's and which are so much a part of our holiday traditions have their origins in England. The custom quickly developed in Europe, especially in Germany, because of a brand-new printing process perfected by Aloys Senefelder in 1796. Lithography, as the technique was called, could be used to reproduce large numbers of drawings or texts first drawn on a finely-textured stone.
In 1843, the first greeting card appeared in England, produced by John Calcott Horsley for Sir Henry Cole, in place of his usual Christmas letters. This card depicted a family enjoying Christmas celebrations and lifting their glasses in a toast. The scene greatly shocked temperance workers who quickly denounced it! Printed cards soon became the rage in England; then in Germany.
Louis Prang, one of the founders of the Dixon Ticonderoga Company, was born in 1824 in Breslau, Silesia (present day Poland). He studied printing and dyeing techniques in Bohemia before immigrating to America in 1850. Prang developed a four-color printing process known as chromolithography in the 1860s. Prang's system was the first workable system to reproduce color in print. He used chromolithography to reproduce great works of art for classroom use. Prang set up a workshop in Boston, Massachusetts in 1860 and began to produce the first colored cards. Most of his business at first was to reproduce masterworks of art and maps for use in classrooms.
To simulate the exact colors and textures of an artwork, Prang's process could require up to twenty different stones. Prang built a large printing plant which used this same process to produce art education textbooks, instruction books, maps, color portraits, as well as America's first Christmas cards.
In 1875, Louis Prang began publishing cards, and earned the title "father of the American Christmas card." Prang's high-quality cards were costly, and they initially featured images that did NOT include the Madonna and Child, a decorated tree, or even Santa Claus. The first cards had colored floral arrangements of roses, daisies, gardenias, geraniums, and apple blossoms. At the time, however, greeting cards were more often linked to New Year's than to Christmas.
He printed his cards in no less than eight and sometimes as many as thirty-two colors to achieve the "perfection of color" he sought. Americans leaped to send Christmas cards, but not those of Louis Prang. His card-making process was too costly, and he was forced into closure in 1890. Penny Christmas postcards imported from Germany that became the fashion until well into the 20th century. By the end of World War I, America's modern greeting card industry had been born. Today, nearly 3 billion Christmas cards are exchanged annually-just within the United States. Christmas is the number one card-selling holiday of the year.
You might enjoy reading more:
History of the Dixon Ticonderoga (Prang) Company
_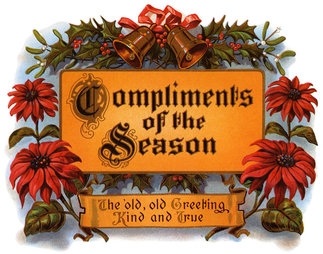 Web Hosting
by iPage. The copyright of the articles in The Wise Collector is owned by Barbara Nicholson Bell. Permission to republish any articles herein online or in print must be granted by the author in writing.